1. Optolong UV/IR Cut Filter Introduction
Optolong UV/IR Cut filter is designed for ultraviolet and infrared wavelength blocking to improve sharpness of the image as most of the optics are designed for the visible spectrum, because it's very difficult to create a lens with the same focal point for the visible and IR spectrum.
It is used on a digital camera and the video, which do not have an IR protection filter toward an image sensor or were remodeled. This is important because unfiltered CCD and CMOS sensors are extremely susceptible to UV and IR rays just outside the visible spectrum that can have a very negative impact on image quality.
Main Use and Performance
Suitable for color CMOS and CCD cameras and modified DSLRs.
Use with monochrome CCD for astrophotography.
Available to assist in focusing.
Act as an outstanding dust shield, which prevents the possibility of dust settling on the lens during long time exposure.
WARNING: The filters of Optolong are not designed for sun observation. DO NOT LOOK AT THE SUN WITH OPTOLONG FILTER. You would be BLIND if you fail to observe the warning.
2. Referance Spectrum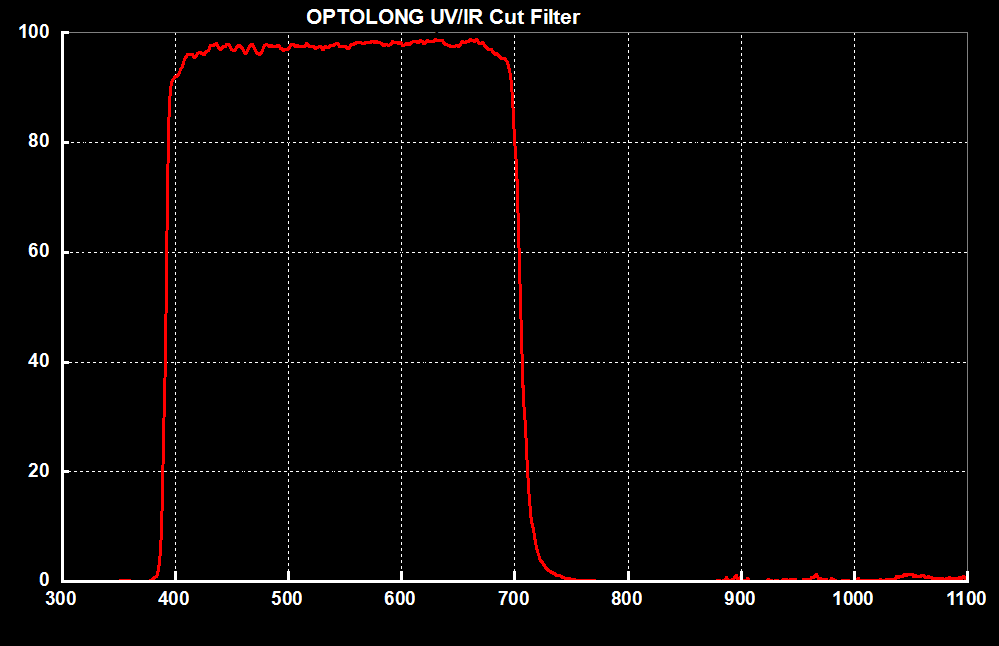 How to read the chart?
▲The horizontal axis is the Wavelength in Nanometers(nm).
▲The vertical axis is transmission in %.
▲The RED line shows the transmission of the UV/IR Cut filter.

3. Coating Technology
·Multi-layers anti-reflection coating
·Non-cementing optical substrate coating
·Optolong filter adopts precision coating based on Ion-assisted deposition coating technology for durability and resistance to scratching, as well as stability on CWL(central wavelength) no deviation affected by temperature change.
·Planetary rotation system offers precision and homogeneity of coatings ensuring high value on transmission of pass-band and Optical density of off-band.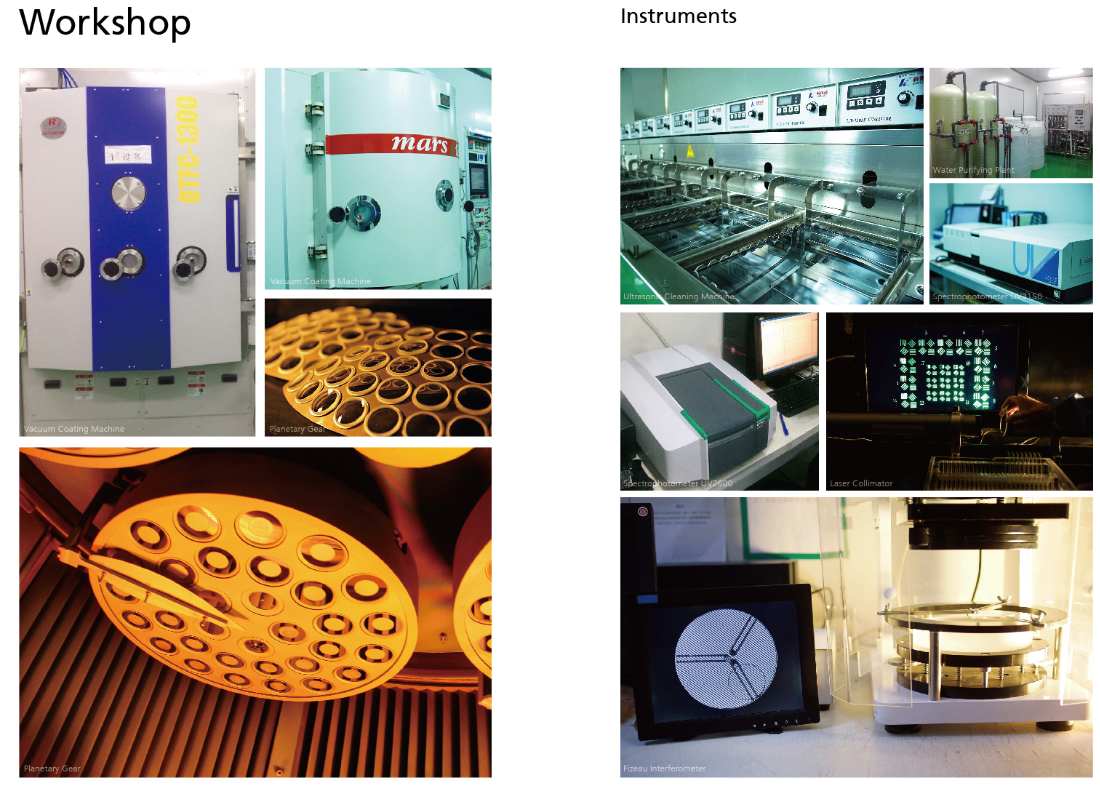 5.Package 


2019 NEW package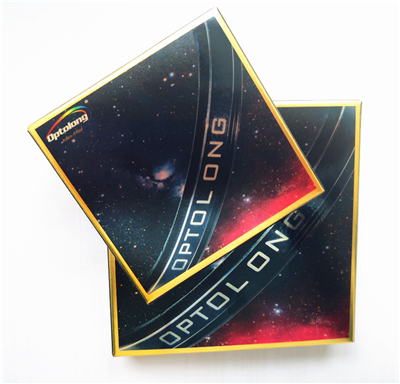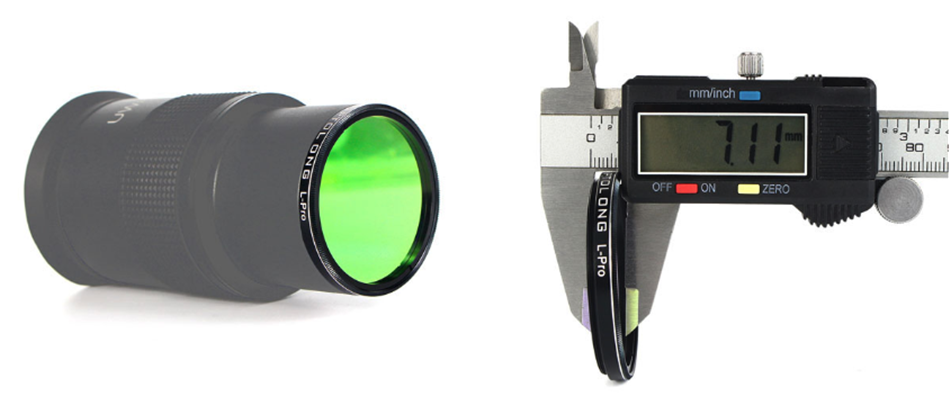 6. Optolong UV/IR Cut Filter Performance
Ⅰ. M51 © 李召麒
Technic Data:
Telescope: GSO 10″ RC
Camera: QHYCCD QHY 695A
Mount: SkyWatcher AZ EQ6 GT
Processing: Adobe Photoshop CC, PixInsight 1.8.8
Filters: Optolong B, Optolong G, Optolong R, Optolong L
Date: 2020年1月2日
Exposure: 100×300″
Copyright@李召麒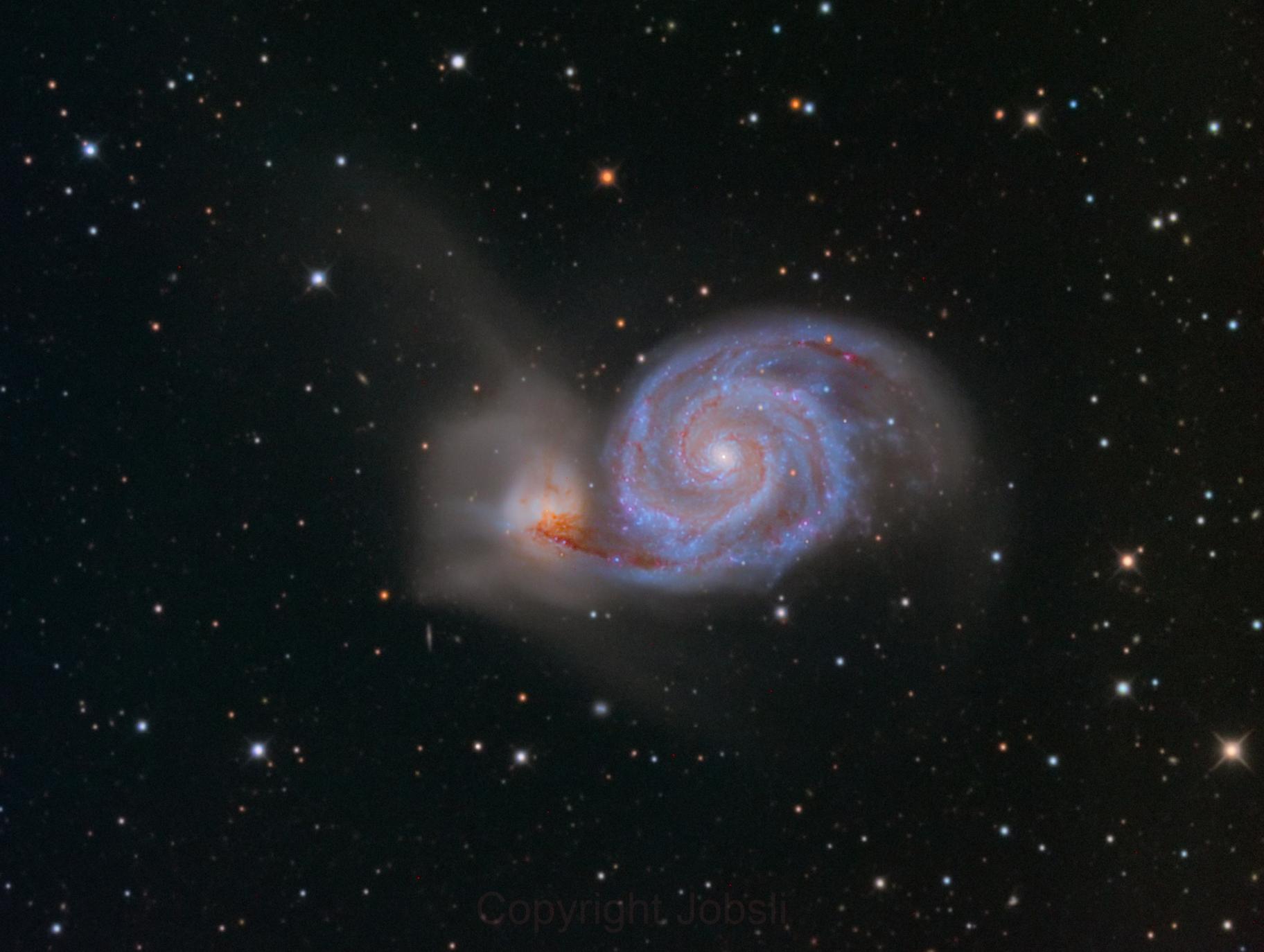 Ⅱ. Globular Cluster M5© Astrodoc Ron Brecher   
Globular cluster M5 contains hundreds of thousands of stars.and is one of my favourite objects to view in any scope. Bright globular clusters remind me of sugar spilled on a black table cloth.
Tekkies:
Sky-Watcher Esprit 150 f/7 refractor, QHY 16200-A camera,
Optolong L, R, G and B filters, Paramount MX, unguided.
Acquisition, and focusing with TheSkyX. Automation with CCDCommander.
Equipment control with PrimaLuce Labs Eagle 3 Pro computer.
All pre-processing and processing in PixInsight. Acquired from my SkyShed in Guelph.
No Moon, average to above average transparency and average seeing. Data acquired May 25 – June 4, 2019.
23x10m L, 19x3m L, 16x5m R, 16x5m G and 15x5m B (Total = 8hr42m)
Image scale 1.15 arcsec per pixel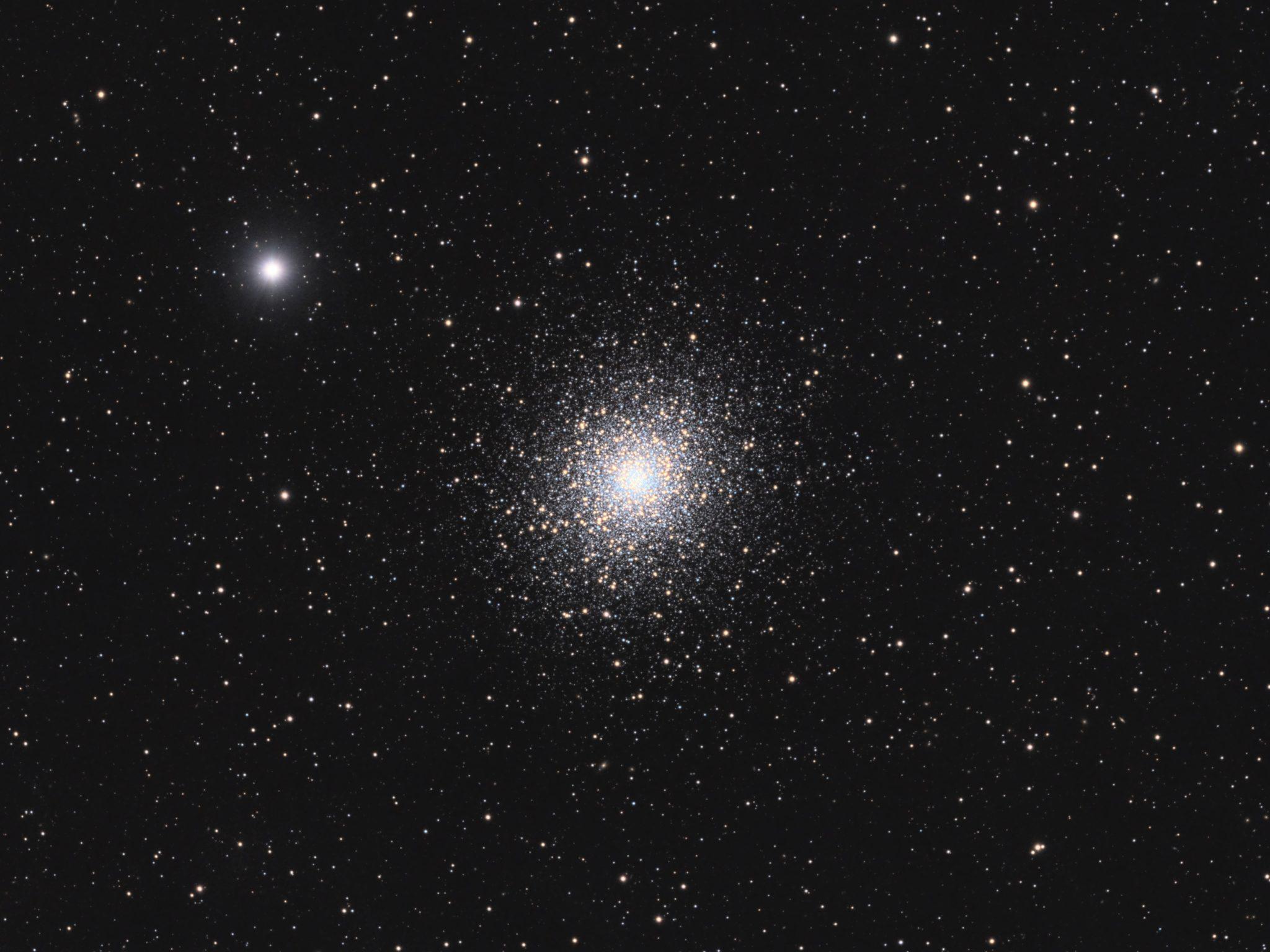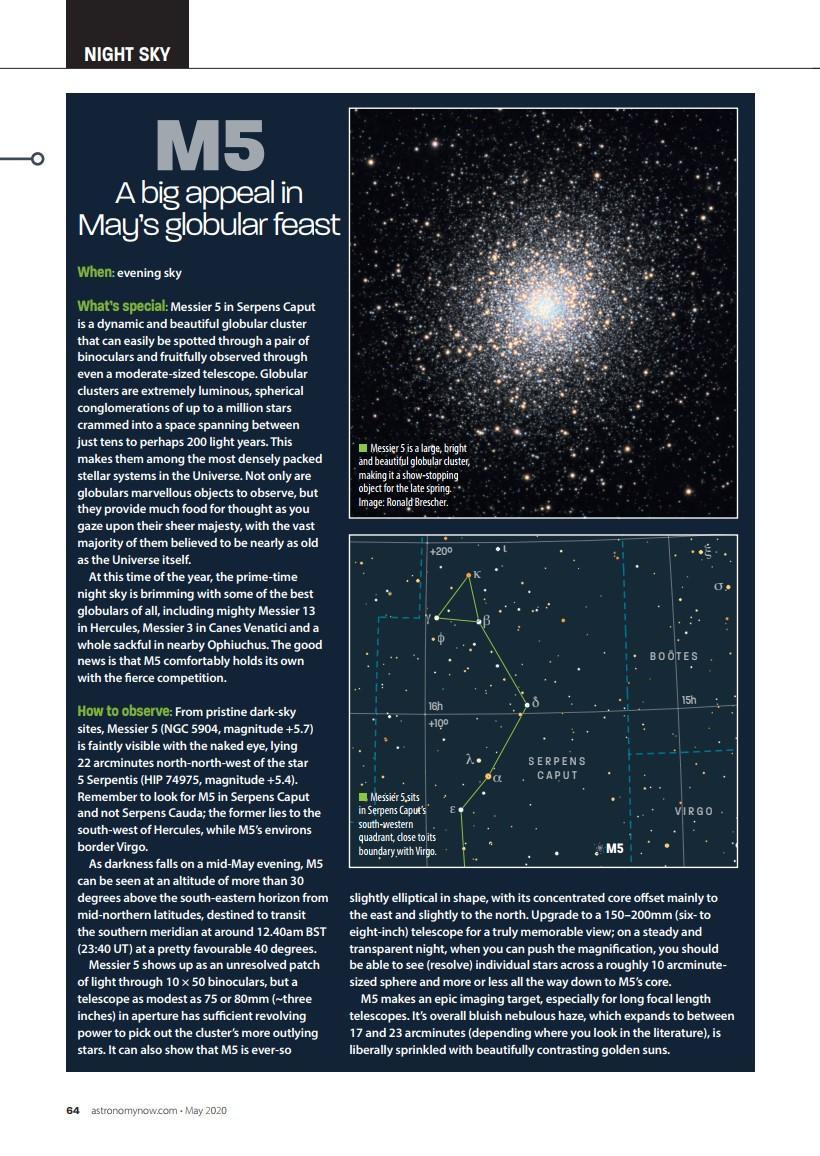 III.  The Iris Nebula (NGC 7023)© Tommaso Massimo Stella   
The Iris Nebula (NGC 7023) is identifiable in the constellation of Cepheus, is 1400 light years from our solar system and is of the "reflection" type. Responsible for its illumination is the central star of magnitude 7.7 HD 200775.
To cross the nebula from one end to the other, we would have to travel for about 6 years at the speed of light. This data gives an idea of the size of this magnificent celestial object.
Around the bluish zone we can see the dense powders drowned in the molecular complex of Cepheus.
The shooting required a high number of hours (about 22) of integration considering the still limited height of the object and were acquired from the sky Bortle 5 of Maruggio (TA) a few meters from the sea.
The image was then integrated with the shots taken in 2017 with the ASI 224 planetary camera and short exposure technique in order to increase its detail.
A final 64% crop brought the equivalent focal length to 1100mm.
Tecnical data
Telescope: Newton Skywatcher 200 f/4 + TS PhotoLine Apo FPL53 102 f/7
Camera: ZWO ASI 224mc + QHY 168C
Mount: Skywatcher AZ-EQ6 GT
Autoguide: Takahashi FS-60CB
Filter: Optolong Astronomy Filter L-CCD (UV/IR Cut filter)
Lights: 439x40s (ASI 224, no guide) + 203x300s (QHY 168c)
Processing: DeepSkyStacker, PixInsight, Photoshop CC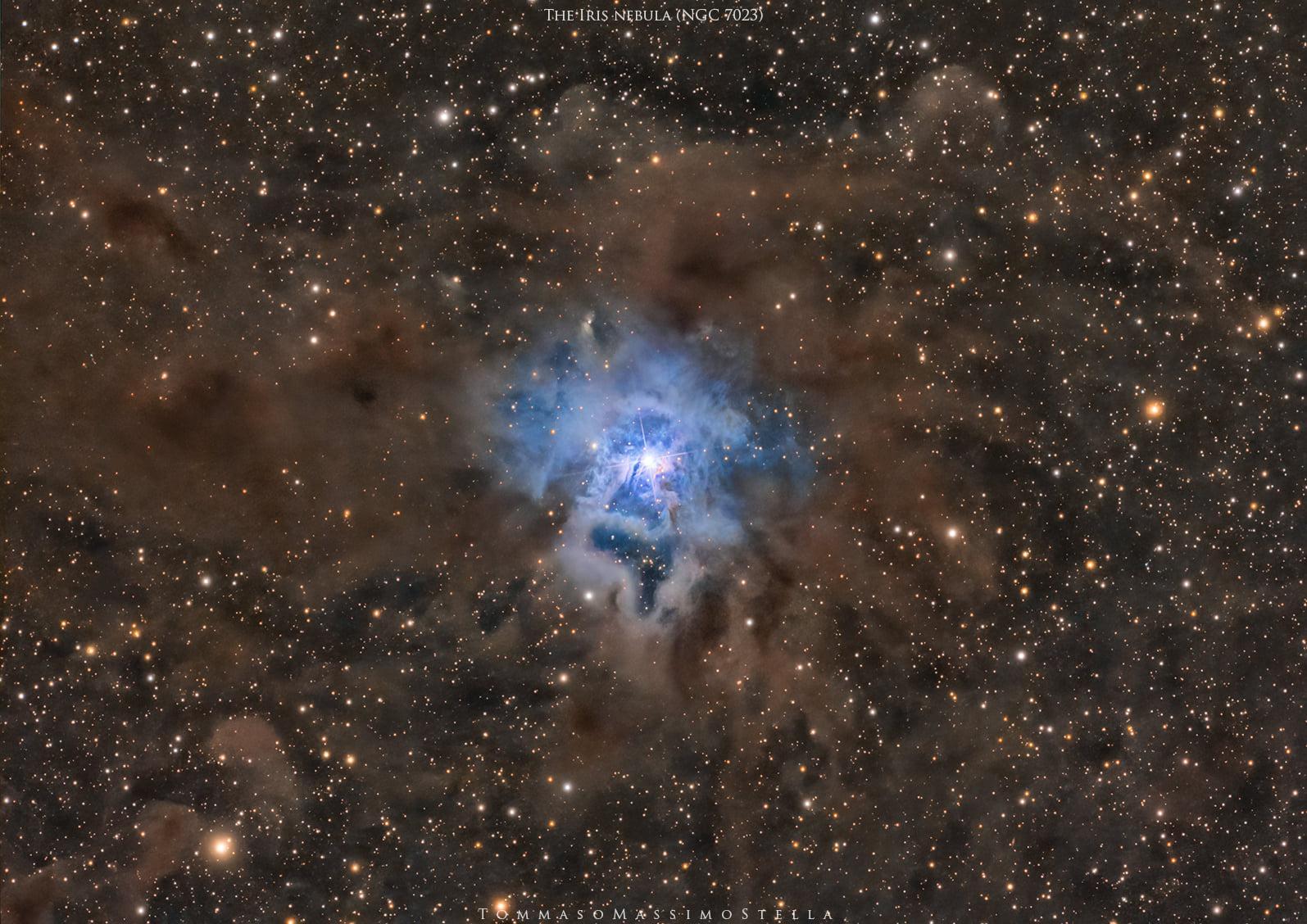 Warm prompt
●About color: due to the influence of ambient light, color difference of the display and flash photography, the color of the product may have some color difference. Detailed color is in accordana with the final product.
●About coating: the interference filter will show different colors under different light, which is a normal phenomenon. Please refer to the material object.
●About the style: in order to improve the product, the change of design/appearance/parameters has not been updated in time. Please see the subject produce.
●About the description: the series of this product have the same material, technology and design, different sizes only, please note.